Sky Villa
Architect designed, generously laid out home in exclusive setting overlooking the Aegean and Santorini, ideal for a relaxing holiday on the beautiful island of Ios.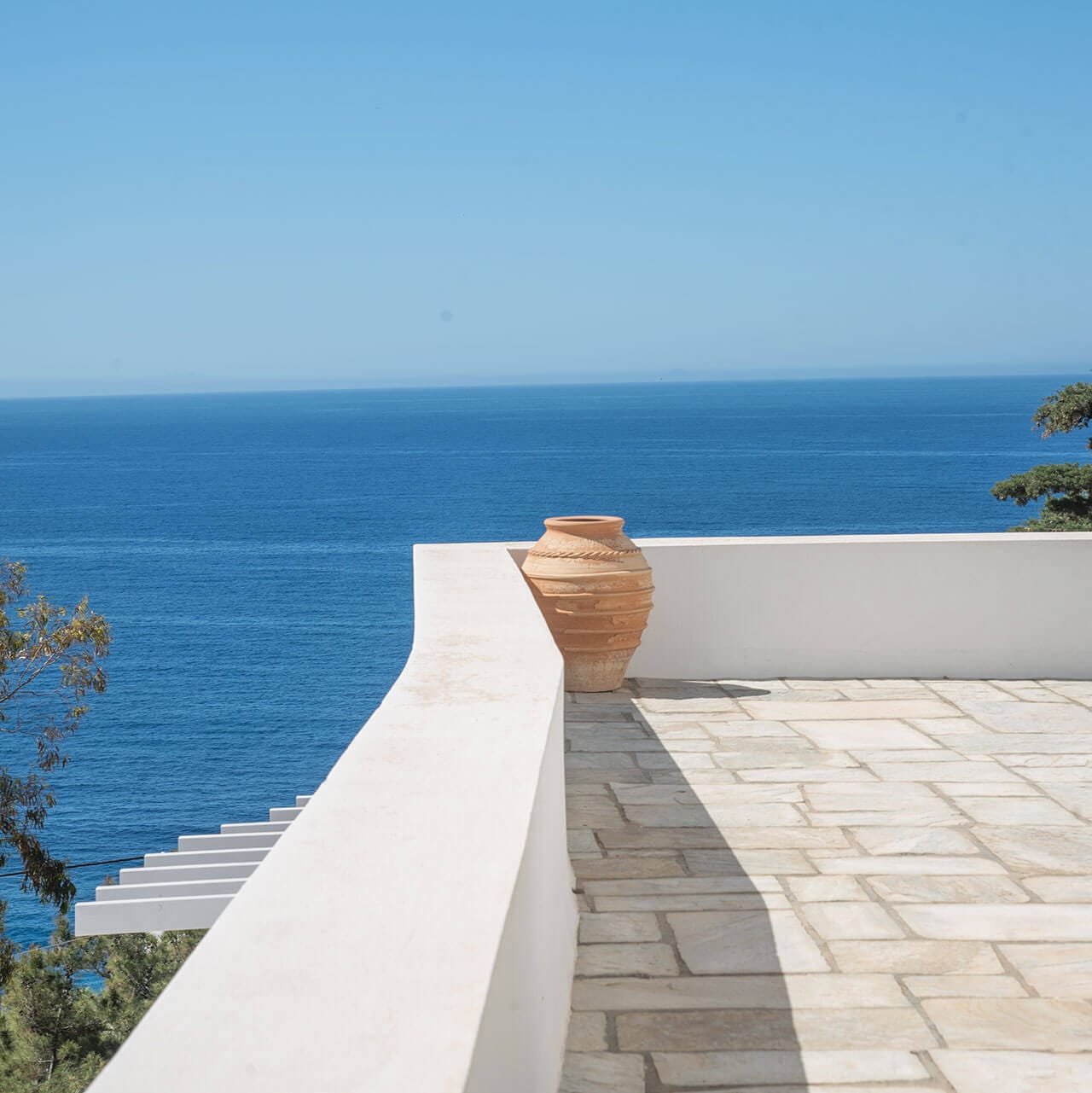 Outside Areas
Under the covered balcony leading from the living area is a large dining table with comfortable seating.
In the front garden under the spreading pines there is another charming place to sit. I notice a lot of guests like to linger here over the morning coffee while planning the day.
Beneath the house, the rambling garden descends in terraces full of pine, cypress and olive trees. There are also a few fig trees for those lucky enough to be visiting in August!
Covered veranda on the east side
Front garden sitting area
Milopota bay from front balcony
Living/Dining Area
The main entrance takes you into the large living/dining area ( approx 65m2 ),where light floods in through large balcony doors which open onto the surrounding verandahs. There are spectacular views south towards Santorini and east across to Mylopota bay.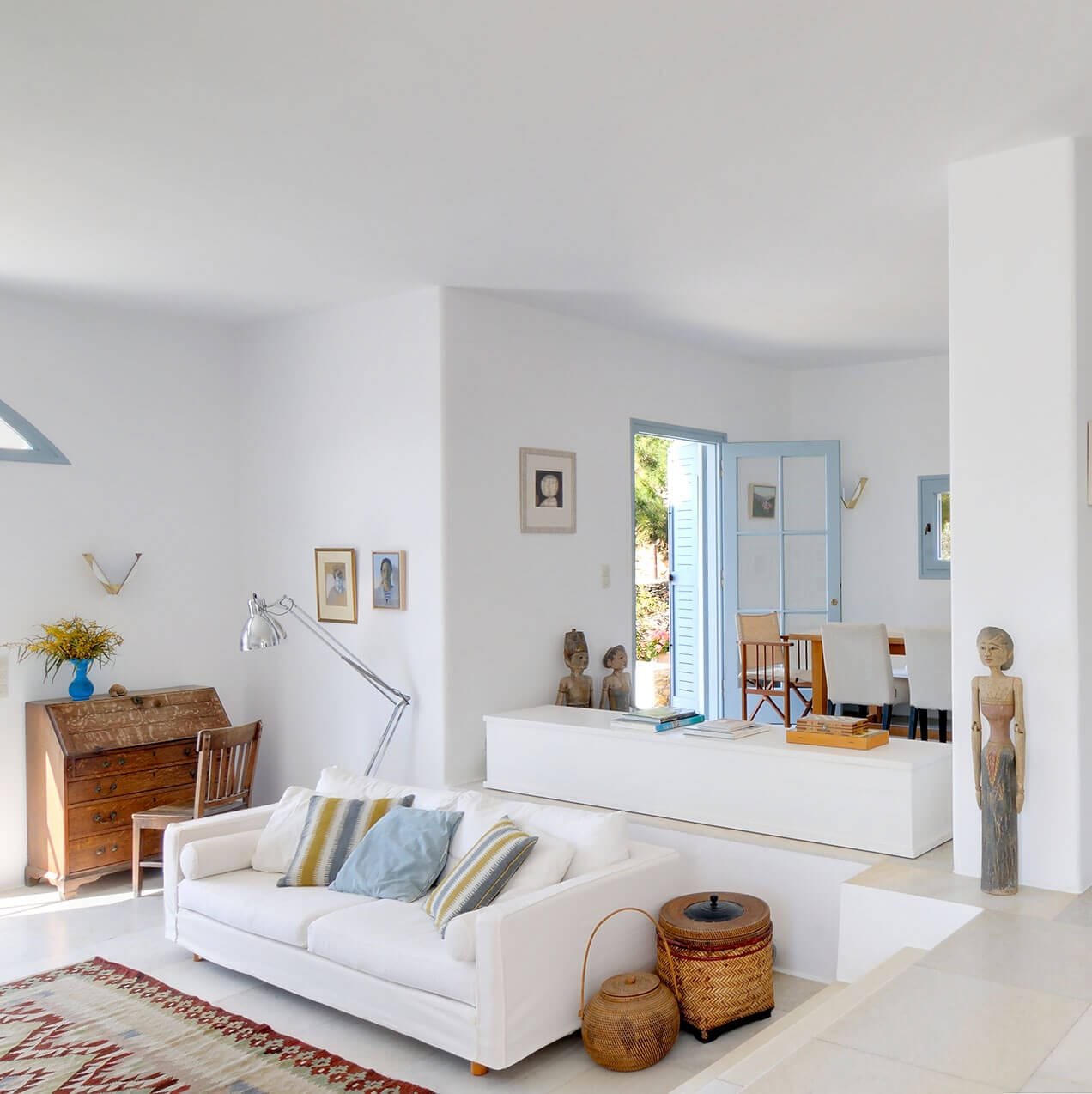 Covered veranda outside living room
View south across Milopota bay towards Santorini
Milopota bay from front balcony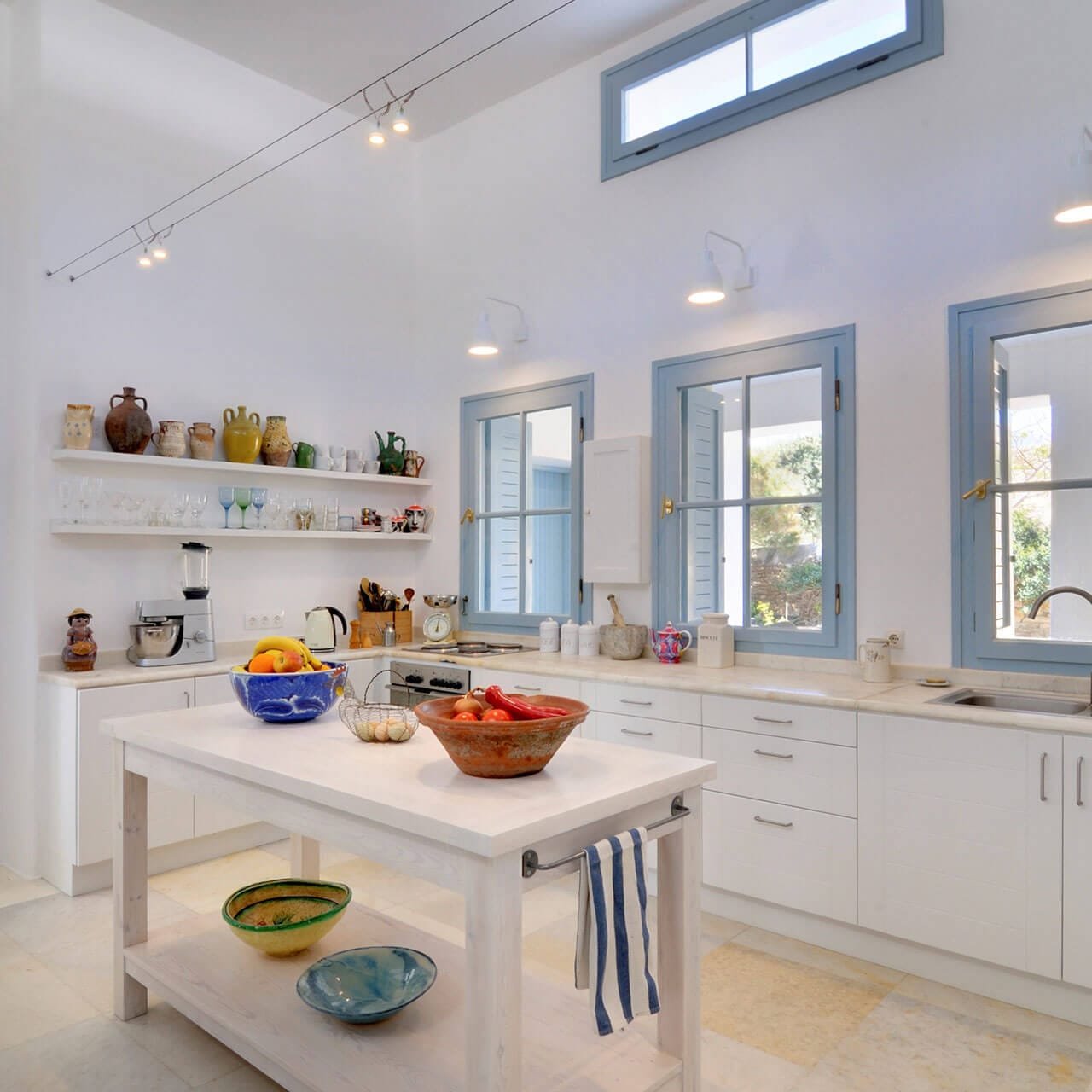 Kitchen & Tower Room
Next to the living/dining area is a large fully equipped kitchen. It was designed to be the hub of the house, the centre of all activity. It is surrounded by verandas and one complete side is given over to an open staircase, ascending both up to the tower room, with its panoramic views and down to the next level, to bedrooms and bathrooms.
Kitchen & stairs leading up to the tower
The tower room with great view
Bedrooms & Bathrooms
Descending the stairs from the kitchen brings you to a more secluded/protected area . To the bedrooms and bathrooms.
Bedroom 1:  This is the master bedroom. It has a queen size bed, a large en suite bathroom with shower and bath tub and a walk in closet. Balcony doors open onto a covered patio with a beautiful view south. Air con, safe box.
Bedroom 2:  Queen size bed, large fitted cupboards, air con, safe box and views looking east across Mylopota bay.
Bedroom 3:  Queen size bed, wardrobe, air con, safe box. Opens onto a small shady patio. Windows facing north and west.
Bathrooms 1 & 2: Situated between bedrooms 2 & 3 for easy access. One has a bath tub.
Bedroom 4: This room is accessed from the outside, underneath bedroom 3. It has an en suite bathroom and the sleeping arrangements can be adjusted between king sized bed or two singles. Safe box.
Bedroom 5: This room is also accessed from the outside. It is at front of the villa, has an en suite bathroom , air con and a pretty patio looking south.
Bedroom 6: Originally planned as a library/study, this room is accessed from the staircase in the kitchen. If need be, it can be used as an extra bedroom, either for a double or two singles. The disadvantage is the distance from the bathrooms, the advantage is that it has the best view. It opens onto the main roof.





Pets allowed
upon consultation with the owner




Location
Cyclades, Greece
This is a beautiful area, locally known as the "Caldera " as the properties here are situated above the sea, looking towards Santorini and Crete. It is within easy walking distance of various beaches and the village, yet is quiet and peaceful.
Getting around
Having ones own form of transport is always an advantage on Ios as there are many beautiful beaches and some places of interest to visit at various locations around the island. There is private parking for two cars outside the house and plenty of space just nearby. Walking can also be a pleasure, getting to the nearby beaches and coves down small paths amongst the rocks.